OpenSpace Agility for Communities & Planet
In this one day hands-on workshop you will learn to use Open Space Technology and the OpenSpace Agility framework to evolve your community towards the best possible emergent future. You will rapidly co-generate a learning community within this workshop to apply the wisdom and power of both the large group community facilitation process, Open Space, and the wisdom gained from using Open Space to transform software development organizations towards adaptive agility.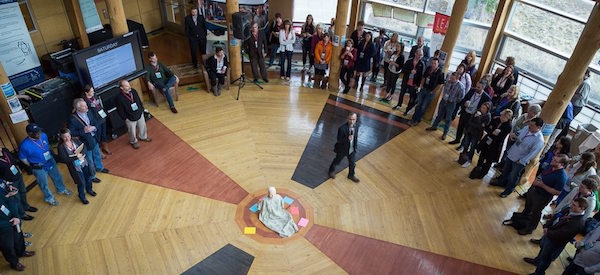 As a co-developer of the OpenSpace Agility framework, and co-author (along with several others) of the OpenSpace Agility Handbook, this workshop is the culmination of decades of my own personal transformation and development. Until a few years ago, large group process work was a hobby. I've been part of large dysfunctional organizations, communities, and systems - including New York City of the 1970's, the Catholic Church, Xerox as it was actively "Fumbling the Future", and I tried to preserve and implement some great ideas that came out of Xerox's Palo Alto Research Center (including some that I had developed and patented along with others there), but which many organizational stressors eventually forced into the metaphorical attic.
Witnessing so much crazy organizational behavior, both in these commercial enterprises but also in my church affiliations, family, and community efforts I began a search for something better that has led me from being a full time software developer and programmer - to being a full time coach and facilitator of organizational and community shifts. In addition to bringing the OpenSpace Agility approach to software companies in collaboration with Daniel Mezick, I help shift the University of Montana, Oregon State University, the city of Missoula (with the Missoula Civic Hackathon), Rural Medicine (with the first Rural Medicine Hackathon), the business ecosystem of Montana (with Montana Code School and Montana Agile Culture House), the Jeannette Rankin Peace Center, and the whole community of Open Space facilitation (through the Open Space Institute).
If you, like me, hear the call of our times for large scale shifts in our social, commercial, and personal practices and mindsets, and you are willing to "take responsibility for what you love as an act of service" in bringing the best tools and awarenesses to bear to help us individually and collectively make the shift - I hope you'll choose to be part of a select team applying some powerful tools for organizational change using Open Space and the OpenSpace Agility Framework.
This workshop is part of a two day class "Agile Success with OpenSpace Agility: The 2-Day OSA Fundamentals Workshop" in which you will earn a certificate from OpenSpaceAgility.com. There will be at least one other class in 2016 where it will be possible to complete the second day.
Together we will learn the fundamental elements of the OSA approach by actually practicing it.
1) You build a high performing (if temporary) learning community.
2) You design together a small Open Space event in order to explore the use of OSA ideas for our own learning community as it touches the rest of the communities and organizations you work with.
3) You will look at the emergent leaders that show up in the OpenSpace, and collaborate with them to design follow up experiments to apply beyond the class.
Together you will also partner with other attendees and myself for applying and monitoring the experiments to make between this and the concluding second workshop (which could be in the same location with the same people, but the second day could potentially also be online.)
The class will be held at a private home in the Ravenna district of Seattle. Details provided on registration.
May 16th, 2016 9:00 AM through 5:00 PM
Seattle

,

WA




UNITED STATES