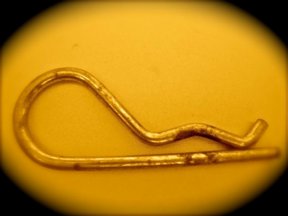 Seth Godin has made enough of an impact to have his own action figure, perhaps the only business book writer to have earned such a distinction. He's hit home runs with so many of his books such as Permission Marketing, Purple Cow, All Marketers are Liars, and Tribes. He's done it again, maybe even more so, with his latest book that is going onto the market January 26 – Linchpin: Are You Indispensable.
If you follow his blog, or follow someone who follows Seth's writings, you may have been lucky enough to get an early copy of the book as I did by making a donation to the Acumen fund. This book is potent stuff. Read it only if you want to be challenged and changed.
The idea of the book is that the linchpin, that little metal pin that holds the wheels on vehicles and machinery, that holds the whole machine together, is a perfect metaphor of what we all need to do and become now. We do it by being artists and by giving.
This book is an impassioned plea for people not just to get up and lead, but to break out of the factory industrial capitalist model and stop following orders and being cogs in the machine. It calls for us to throw away the formulas that are embedded in our psyche's as "the resistance" to our own genius, and do the emotional labor needed to do our art – whatever that is – but also where ever we are, or need to be. I loved it how he said that for 90% of the cases, that probably means leaning into the job you have right now. And not waiting for permission from your boss to do great work.
In one chapter, Seth gives completely conflicting directions about what might be needed, and that's the point. One of the final chapters is "There Is No Map". True explorers make new maps for the people coming after them, even if it means they might fall off the edge of the world. That's also what an artist does – not necessarily with canvas and paintbrush. But maybe with WordPress and a laptop, or with a contact list and a cell phone. What is your art? Starting out can be hard, especially if you don't have the proper knowledge of what you are getting yourself in for. If you need helpful resources for WordPress and how to get going on there, you can check out links like https://www.youtube.com/watch?v=oB6b5P6bcZg and see how this can benefit you.
It's hopeless to convey the message of the book in a few paragraphs. Get it. Read it. More than once. Read the books it points to. My life coach, Wendy Keilin, when I told her about Linchpin immediately told me about the book, The War of Art, by Stephen Pressfield. This book is all about identifying the Resistance to your Art. And it's no surprise that it's the first book in Seth Godin's bibliography.
Thank you Seth Godin! You're truly indispensable.